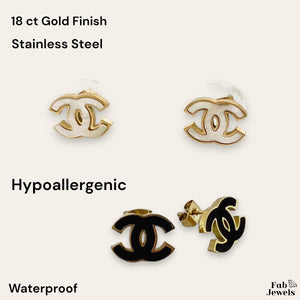 Stainless Steel Hypoallergenic Yellow gold plated earrings. 2 different colours to choose from. 
316L is the

 

highest grade

 

of stainless steel used in the jewellery market.

It is so good at resisting fade, rust, and corrosion.

It will not fade

, change colour, or leave stains on your body.

It doesn't even require any maintenance to keep it looking new.

Just put it on and

 

enjoy the stylish look

 

:)
Width : 15 mm
Length: 10 mm 
All items Comes in gift boxes.
FREE POSTAGE!!